4 Tips for Choosing the Right Knitted Baby Blankets
Share
Issue Time

2021-09-02
Summary
Choosing the right baby blanket can keep your baby warm and comfortable at all times, and the service life will be longer. Today, let's talk about the skills of choosing the right baby blanket.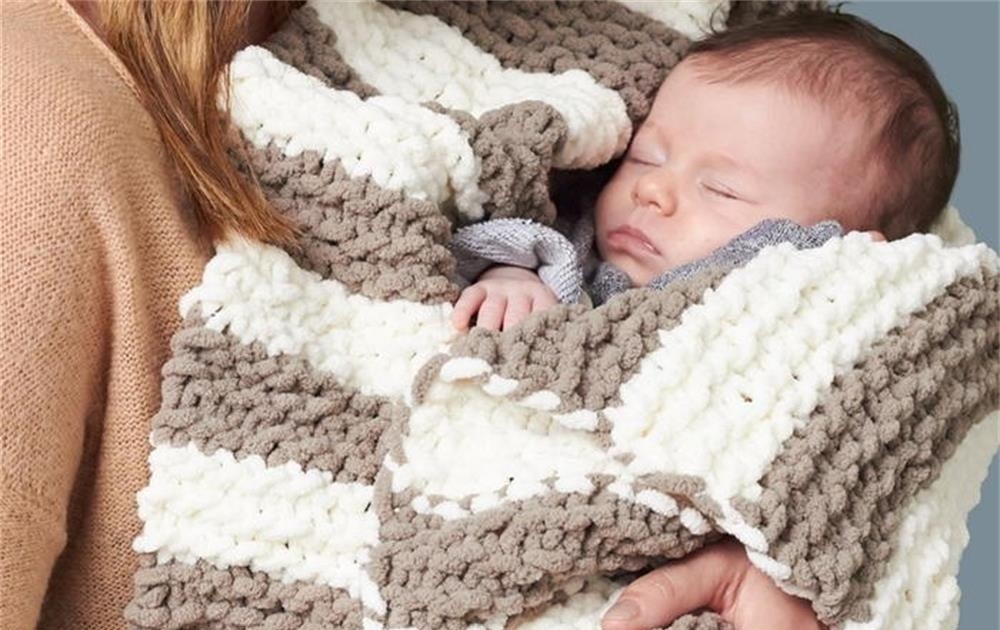 When babies first come to this world, they spend most of their time in blankets. The primary consideration for choosing the right knitted blanket for babies is safety, comfort, and practicality. Here are four tips for choosing the right
knitted blanket for your baby
.
Pay close attention to the material

In terms of baby blankets, the material will be the biggest determinant of quality. It needs to be breathable so that your baby will not sweat at night. In cold weather, it also needs to be warm enough to keep the baby comfortable under any circumstances. The baby blanket also needs to be made of fabrics that are easy to clean. On the whole, knitted fabrics are the best choice.
Keep safety in mind
Your baby will soon start exploring the world with their little hands, toes, and mouth! The baby knitted blanket should not have any tassels, ribbons, or any loose objects that the baby can pull, wrap around the fingers, or put in the mouth. It is also necessary to consider that there are no large holes in the knitting pattern on the knitted blanket, because the baby may pinch toes and fingers in these holes.
Get the right size
The baby blanket needs to be large enough to wrap the baby. If the knitted blanket is too small, the blanket will not last long, because the baby grows quickly! Most baby blankets are approximately 45" x 45", or the maximum size is 45" x 60". These hand-knitted blankets can meet the needs of infants in swaddling.
Consider long-term quality
Excellent quality knitted blankets can be used for a long time. You need to choose baby knitted blankets that are durable, easy to clean and maintain (the
machine-washable blankets
designed and produced by The Home Place are very easy to wash). You may also want to consider buying another blanket that is large enough for your baby to use later.
The knitted baby blankets manufactured by The Home Palaces use high-quality fabrics with exquisite and lovely knitted patterns, and can also be customized according to the diverse needs of users. If you want to know more about knitted baby blankets after reviewing the above, you can get a comprehensive solution by contacting us.
As a professional
home textile
manufacturer, we have an experienced manufacturing team and staff. We select high-quality fabrics and use exquisite designs to provide customers with high-quality products. We are always committed to bringing a comfortable home life to our customers. If you want to know about our customized services and solutions, please contact us immediately!